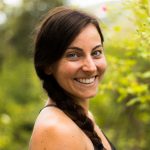 As you've probably guessed already, my name is Leslie and I'm a yoga teacher.
My yoga practice has greatly evolved in the last 7 years.
First, alone in my living room, accompanied by my mat and my computer, then in group and individual classes, which allowed me to deepen my practice and develop a strong relationship with my yoga teacher. As a matter of fact, yoga isn't just a series of poses, it is a philosophy, a way of life of its own, which helped me to better understand myself and my relationships to others.
It is therefore, after all these years, that I took the decision to share my love for this discipline after attending a 200-hours yoga teacher training with Joan Hyman.
I teach Vinyasa yoga, linking breath and movement, while giving special attention to alignments and taking into account everyone's physical specificity.
Having practiced CrossFit since 2014, I was able to observe the many benefits of yoga as a complement to this sport, especially in terms of mobility, improvement of postures and general performances, but also in recovery management.